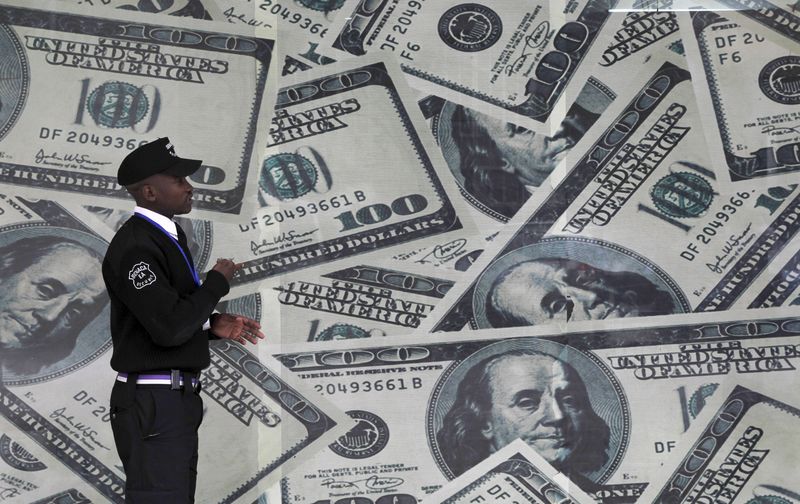 © Reuters. The dollar extended its recovery and rose to over an over one-week peak on Thursday
Investing.com – The dollar extended its recovery and rose to over an over one-week peak on Thursday as the minutes of the Federal Reserve's latest meeting sent the dollar to a bullish trend in general backed by a positive outlook of the U.S. economy and a faster pace for interest rate hikes in March.
The US dollar index that tracks the greenback against a basket of currencies was quoted at 90.04 at 11pm ET, up 0.01% after climbing as high as 90.166 earlier today, as the Fed's positive tone pushed the dollar higher this morning to break the 90 handle from a three-year low near 88.25.
"A majority of participants noted that a stronger outlook for economic growth raised the likelihood that futher gradual policy firming policy would be appropriate," the minutes said. This year will also likely meet the 2 percent inflation target, Fed officials noted.
Inflation within the US economy also contributed to the record highs of bond yields, reaching 2.9537. The CPIs also came better than expected.
But the fall on US equity markets offset the dollar's momentum fueled by the upbeat tone and strong economic data.
Japanese yen rebounded, with the USD/JPY pair changing hands and quoting at 107.35, down 0.39%. A potential faster pace for US. Interest rate hikes led to risk aversion and was cited as supportive for further yen buying.
The AUD/USD pair once broke the 0.78 handle to 0.7805 in mid-morning but slipped back to 0.7795, down 0.10%. The drop is expected to continue.
Australia's retail sales data, coming early Friday, should receive some attention this week, as the Australian economy is still lagging behind the global trend in tightening.
People's Bank of China set the USD/CNY fix rate at 6.3530 today, compared to the previous rate of 6.3428. The USD/CNY traded at 6.3487, down 0.04%. The Chinese market came online today after a long holiday haul.
sponsoredArticle = 'div-gpt-ad-1466339494851-0';