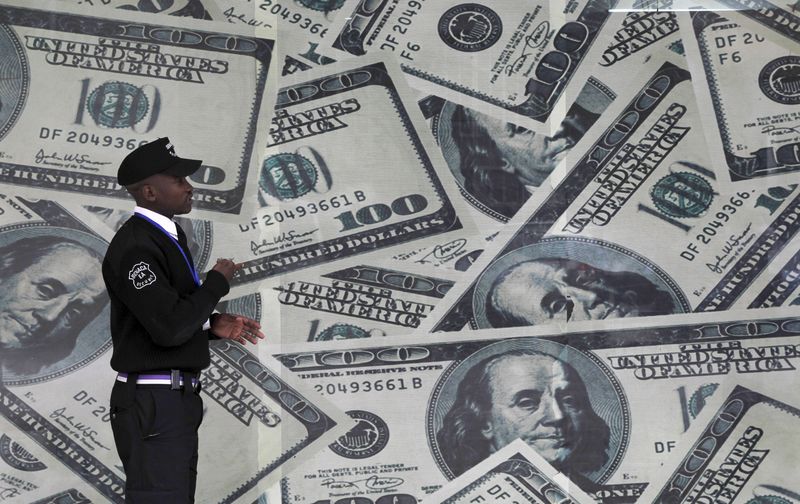 © Reuters. Developments in the U.S. are in the focus today
Investing.com – Developments in the U.S. were in the focus today as Asian market was rather quiet except the upbeat Australian data.
Benefited from higher treasury yields, the US dollar index that tracks the greenback against a basket of currencies rose to a week's high of 89.72, up 0.09% at 10pm ET.
The minutes of Federal Open Market Committee January meeting that are due Wednesday should seize attention as it is set to explain statement on 'further gradual' hikes and may bring volatility to the market. 
This year may see more interest rate hikes by the Federal Reserve than expected as U.S. treasury debt reached its four-year peak, and the yields on the debt kept the dollar's momentum.
The debt surged as last year's $1.5 trillion tax overhaul signed by President Donald Trump resulted in higher deficit and the budget deal will see $300 billion government spending.
USD/JPY was trading at 107.76 mid-morning, up 0.41%. The pair has been quoted at around 107 recently from around 112 at the end of 2017, a decline initiated by the suggestion of a weaker dollar by U.S. Treasury Secretary Steven Mnuchin in January.
Japan's top currency diplomat Masatsugu Asakawa made a few remarks on the yen, saying the yen's recent surge was excessive, and its movement was one-sided.
In Australia, the Aussie eased 0.23% against the dollar at 0.7865 after the release of a weaker-than-expected construction data released by the Australia Bureau Statistics (ABS). Q4 Wage data on the other hand reported 0.6% quarter-on-quarter instead of the anticipated 0.5%.
Elsewhere, USD/CNY stood at 6.3453, up 0.06%. The Chinese market remains offline until Thursday.
sponsoredArticle = 'div-gpt-ad-1466339494851-0';