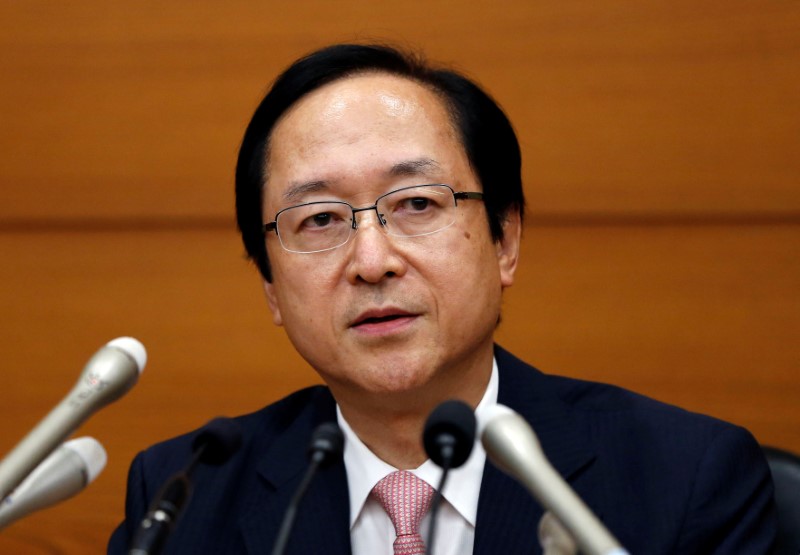 © Reuters. Bank of Japan new policy board member Hitoshi Suzuki attends a news conference in Tokyo
By Leika Kihara
WAKAYAMA, Japan (Reuters) – Bank of Japan board member Hitoshi Suzuki said the central bank must maintain its massive stimulus program to hit its elusive price target, even though the damage that prolonged easing inflicts on financial institutions warrants close attention.
Suzuki also noted a risk that the recent share-market plunge could cloud Japan's recovery prospects.
"We must closely watch how moves by U.S. and European central banks toward policy normalization affect U.S. long-term interest rates and emerging market flows," Suzuki said in a speech to business leaders in Wakayama, western Japan, on Thursday.
"It's important to patiently maintain powerful monetary easing" as inflation remains distant from the BOJ's 2 percent target, said the former commercial banker who joined the board in July.
The remarks by Suzuki, who in November signaled the chance of raising rates if the recovery continued, suggest the recent market tumble could further delay any attempts by the BOJ to edge toward an exit from crisis-mode stimulus.
Suzuki repeated his warning over the rising cost of massive stimulus, saying that prolonged easing could hurt financial institutions' profits and discourage them from increasing lending.
"We must carefully watch how the cumulative impact of continued monetary easing… could affect Japan's financial system," he said.
While the economy is set to continue expanding and help inflation increase toward 2 percent, it may take time for companies to pass on rising labor and raw material costs to households, Suzuki said.
After three years of heavy money-printing failed to fire up inflation, the BOJ revamped its policy framework in 2016 to one targeting interest rates, rather than the pace of asset buying.
The policy dubbed yield curve control (YCC), which caps short-term rates at minus 0.1 percent and 10-year bond yields around zero percent, has drawn complaints from financial institutions for narrowing their already meager margins.
While Governor Haruhiko Kuroda has repeatedly rebuffed the chance of a near-term withdrawal of stimulus, some BOJ board members have openly warned of rising costs from the ultra-easy policy.
In a media interview in November, Suzuki said there was room to debate a fine-tuning of YCC, signaling the chance the BOJ may raise rates before inflation hits its target.
sponsoredArticle = 'div-gpt-ad-1466339494851-0';