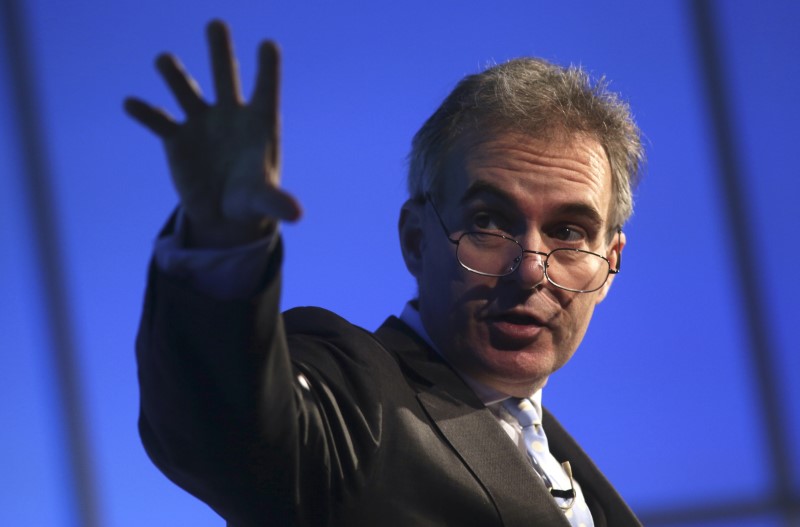 © Reuters. Deputy Governor of the Bank of England Ben Broadbent speaks at a Reuters Newsmaker event at Canary Wharf in London
LONDON (Reuters) – Bank of England Deputy Governor Ben Broadbent said on Friday he did not think a couple more interest rate hikes in the space of a year should come as a great shock, but added that the central bank had not fixed any path for tightening.
Speaking a day after the BoE surprised investors by saying it was likely to raise rates sooner and by more than it thought a few months ago, Broadbent said the low level of rates in recent years reflected global factors.
"But nor do I think if there were to be a couple of 25 basis point rises in a year, that that would somehow be a great shock," Broadbent said in a BBC radio interview.
Asked if he would distance himself from a media report that interest rates are likely to double from 0.5 percent by the end of 2018, Broadbent said: "I don't know… We do not fix the path of interest rates in advance. What is fixed is our remit and rates change with the economy."
Broadbent said he thought the surge in stock market volatility this week reflected the fact that investors had not properly priced in the possibility that stronger economic growth can also generate inflation pressures.
On the outlook for Britain's economy, Broadbent said he thought income growth in real terms would return in the current quarter and that inflation was now pretty close to its peak.
sponsoredArticle = 'div-gpt-ad-1466339494851-0';