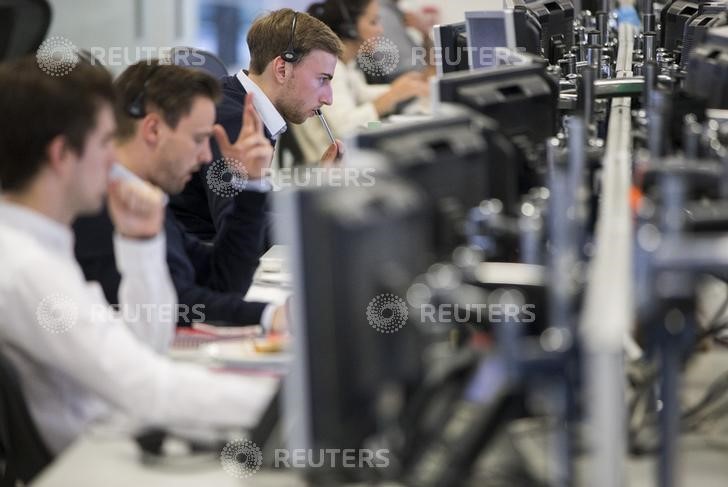 © Reuters. Bank of America Says FX Traders May Be Off on Dollar Bearishness
(Bloomberg) — The dollar's four-session winning streak, its longest since December, may be a harbinger of things to come, according to Bank of America Merrill Lynch (NYSE:BAC) Global Research.
Despite resoundingly bearish sentiment on the U.S. currency, the greenback has climbed 0.8 percent this month, trimming its loss for the year to 2.7 percent. The rally hasn't swayed many investors: hedge funds and money managers remain more net short the dollar than average over the past year, according to Commodity Futures Trading Commission data.
They're positioned for more dollar losses on speculation that global central banks will soon follow the Federal Reserve in paring back post-crisis stimulus, which would strengthen their currencies relative to the U.S. Those investors might be too aggressive in anticipating that action, Bank of America says.
"The market could be wrong by pricing monetary policy convergence too early," Athanasios Vamvakidis, a foreign-exchange strategist at the bank, wrote in a note. "We argue that inflation in the U.S. will increase this year, most likely above what markets expect, and that this will be positive for the USD."
Dollar Bears Dominate at FX-Market Forum as Consensus Hardens
Investors betting on shifting policies by the European Central Bank and Bank of Japan may be disappointed by the scale and speed of changes, Vamvakidis wrote. It's more likely that their monetary policy will continue to diverge from the Fed, since policy makers are expected to raise interest rates over the next two years. On top of that, U.S. inflation will probably outpace that of its developed-market peers.
"If we are right about higher inflation in the U.S. compared with other G-10 economies, the USD will strengthen," Vamvakidis wrote. The core consumer price index posted its strongest month-over-month increase in January since 2005.
Bank of America's view may be out of consensus, but, at least for the moment, it's looking good. The dollar rose about 0.2 percent to $1.2315 per euro and was up 0.3 percent at 107.65 yen as of 11:39 a.m. in New York.
sponsoredArticle = 'div-gpt-ad-1466339494851-0';